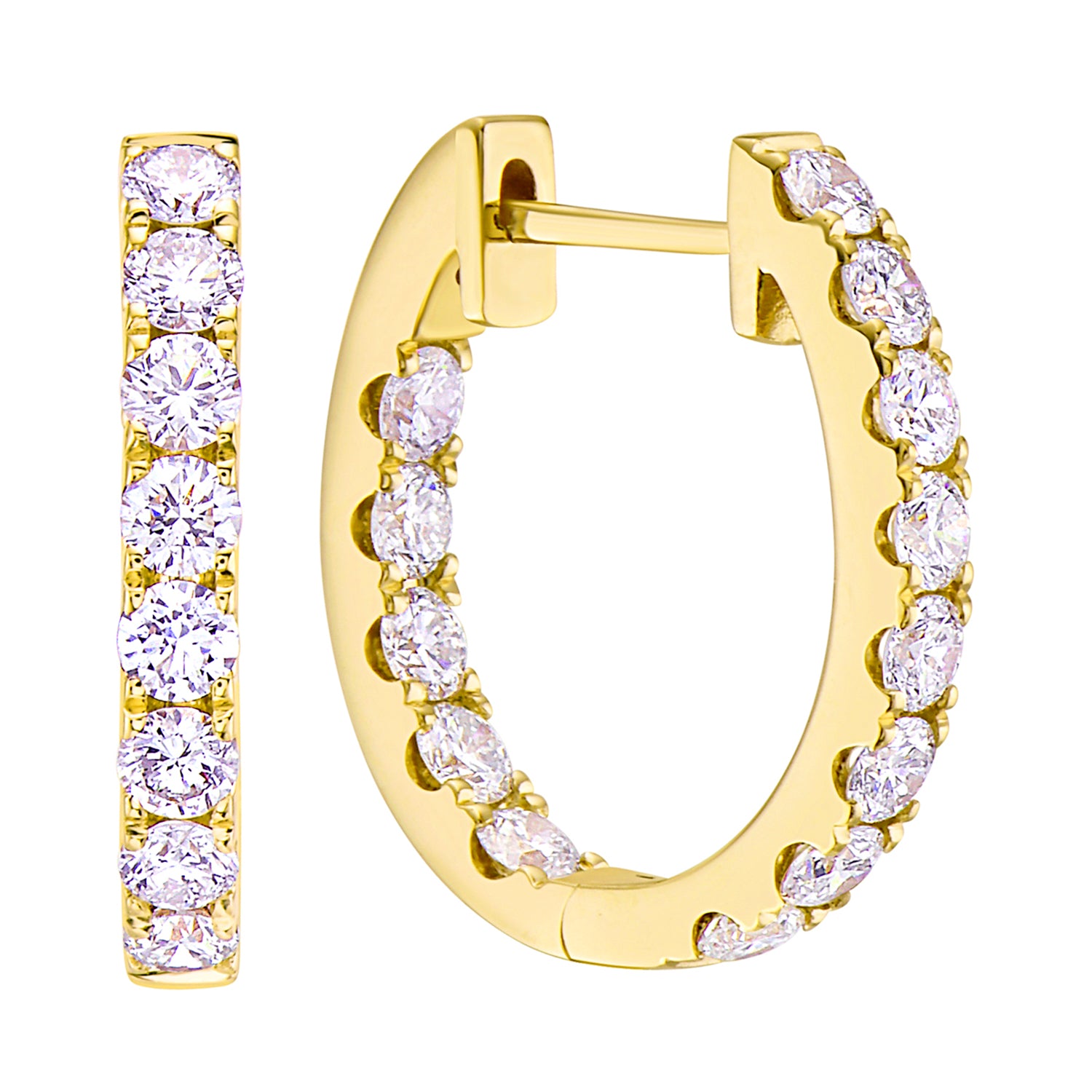 14K Yellow Gold Inside Outiside Huggie Earring - Extra Large
The 14K Yellow Gold Inside Outside Huggie Earring in an Extra Large size is a testament to refined elegance and timeless sophistication in its meticulously crafted design. Fashioned from exquisite 14-karat yellow gold, these huggie earrings feature a striking arrangement of diamonds meticulously adorned on both the interior and exterior surfaces of the hoops. Adorned with a total of 26 round diamonds weighing 1.45 carats, these earrings weigh 3.8 grams, offering a substantial yet graceful presence, perfect for elevating any attire with a touch of opulence.
The distinctive design of these earrings showcases 26 round diamonds meticulously arranged to radiate brilliance from every angle, embellishing both the inside and outside of the huggie-style earrings. Each diamond, intricately nestled within the radiant yellow gold setting, enhances the earrings' sparkle and allure. With their exceptional clarity and precisely cut facets, these diamonds intensify the luminosity, making these earrings a versatile and sophisticated accessory suitable for various occasions.
Exhibiting superior craftsmanship and enduring allure, the 14K Yellow Gold Inside Outside Huggie Earring seamlessly blends classic sophistication with contemporary finesse. These earrings elegantly fuse a timeless silhouette with modern luxury, making them an ideal choice to elevate both casual and formal ensembles. Featuring a captivating ensemble of diamonds set against the radiant yellow gold, these huggie earrings serve as a statement accessory, imparting a touch of refined sophistication and opulent allure to the wearer's ensemble.
Style Number:
GLAE154037DY
Metal Purity:
14 Karat
Metal Color:
Yellow Gold
Setting Type:
Prong
Jewelry Size:
5/8"
Earring Back:
Hinge
Diamond Weight:
1.45ct
Diamond Clarity:
SI1
Diamond Color:
H