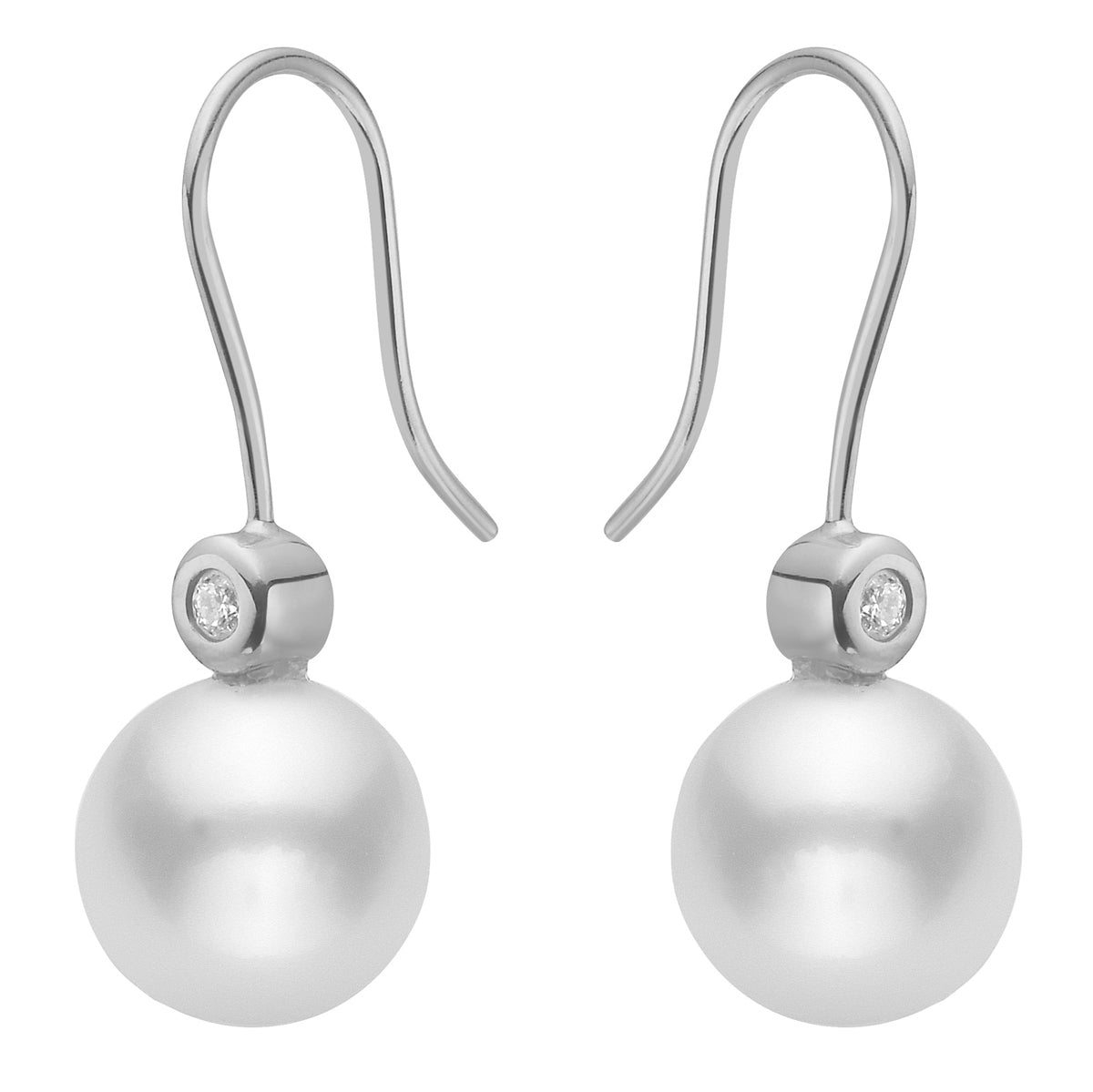 Freshwater Pearl and Bezel Set Diamond Hook Earrings
Style Number:
GLE012184
Metal Purity:
18K
Metal Color:
White Gold
Jewelry Finish:
Rhodium
Jewelry Size:
1"
Earring Back:
Hook
Diamond Count:
2
Diamond Shape:
Round
Diamond Color :
H/I
Pearl Type:
Freshwater
Pearl Color:
White
Pearl Shape:
Round
Pearl Count:
2
Pearl Size :
45179
Pearl Quality:
AAA
Diamond Weight:
45179ct
Diamond Clarity:
SI!
Diamond Color:
H
These Freshwater Pearl Earrings are a stunning embodiment of classic elegance and modern sophistication. These earrings feature two exquisite 9-10mm freshwater pearls, celebrated for their natural creamy-white hue and gentle iridescence. The pearls exude a timeless beauty and grace, serving as the focal point of this elegant design. Encircling each pearl are two brilliant diamonds, totaling 0.06 carats, creating a delicate halo effect that beautifully enhances the pearls and adds a touch of brilliance to the design.
Crafted with meticulous precision and attention to detail, these earrings are set in 18-karat white gold, providing a contemporary and luxurious backdrop for the lustrous freshwater pearls. The diamonds add a dazzling sparkle, making these earrings suitable for special occasions and everyday wear. With a total weight of 1.1 grams, these earrings offer a comfortable and balanced fit, ensuring you can wear them with ease while exuding an air of sophistication and enduring beauty.
These Freshwater Pearl Earrings with two diamonds and 9-10mm pearls are a symbol of timeless allure and contemporary design. The use of 18-karat white gold adds a touch of luxury to the earrings, beautifully complementing the pearls and diamonds. The diamonds, with a total carat weight of 0.06, encircle the pearls, creating a delicate yet captivating halo effect that enhances their natural luster. These earrings are a versatile and cherished addition to your jewelry collection, representing refinement, elegance, and a timeless sense of grace.