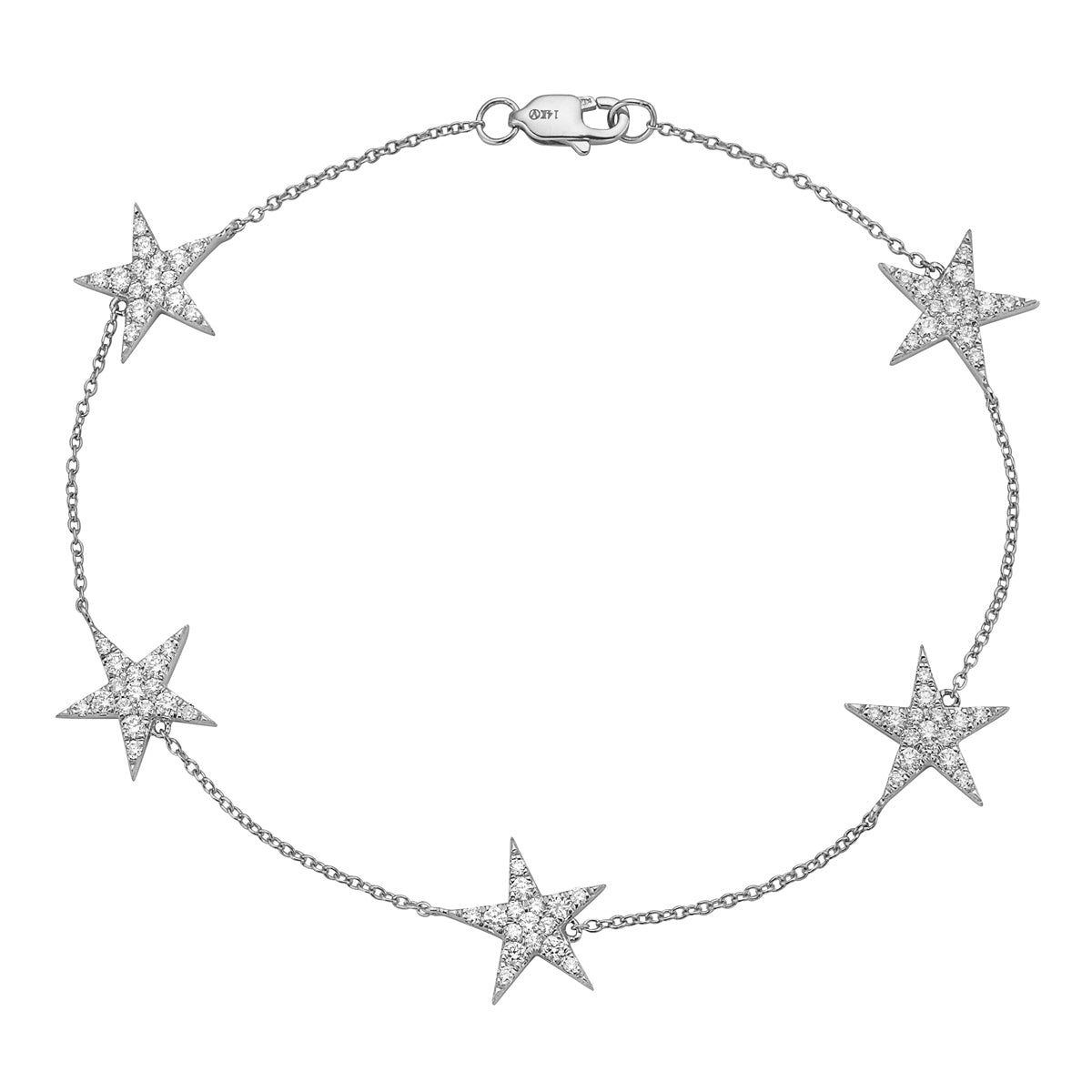 14K White Gold Diamond Stars Bracelet
This 14K White Gold Diamond Stars Bracelet is a celestial-inspired piece that radiates ethereal charm and elegance. Crafted from premium 14-karat white gold, this bracelet features a whimsical design adorned with delicate star motifs. Weighing 2.3 grams, its lightweight and graceful construction make it an ideal accessory for both casual and formal occasions, infusing a touch of celestial allure into any attire.
Adorned with a total of 80 round diamonds weighing 0.78 carats, this bracelet twinkles with celestial brilliance. Each diamond is meticulously placed within the star-shaped settings, creating a dazzling constellation-like effect. The diamonds' exceptional clarity and sparkle harmonize seamlessly with the luminous white gold, resulting in a piece that captures the essence of the night sky, exuding a captivating and enchanting glow.
This jewelry item serves as a symbolic representation of celestial beauty and sophistication, making it a cherished addition to any jewelry collection. The fusion of the celestial-inspired star design with the scintillating allure of diamonds evokes a sense of wonder and elegance. Whether worn alone as a celestial statement or layered with other bracelets for a personalized look, the 14K White Gold Diamond Stars Bracelet is a mesmerizing and enchanting adornment that adds a celestial touch to any ensemble.
Style Number:
GLAB154837
Metal Purity:
14 Karat
Metal Color:
White Gold
Jewelry Finish:
Rhodium
Setting Type:
prong
Jewelry Size:
7.5"
Chain Type :
Cable
Clasp:
Lobster
Diamond Weight:
0.78ct
Diamond Clarity:
SI1
Diamond Color:
H