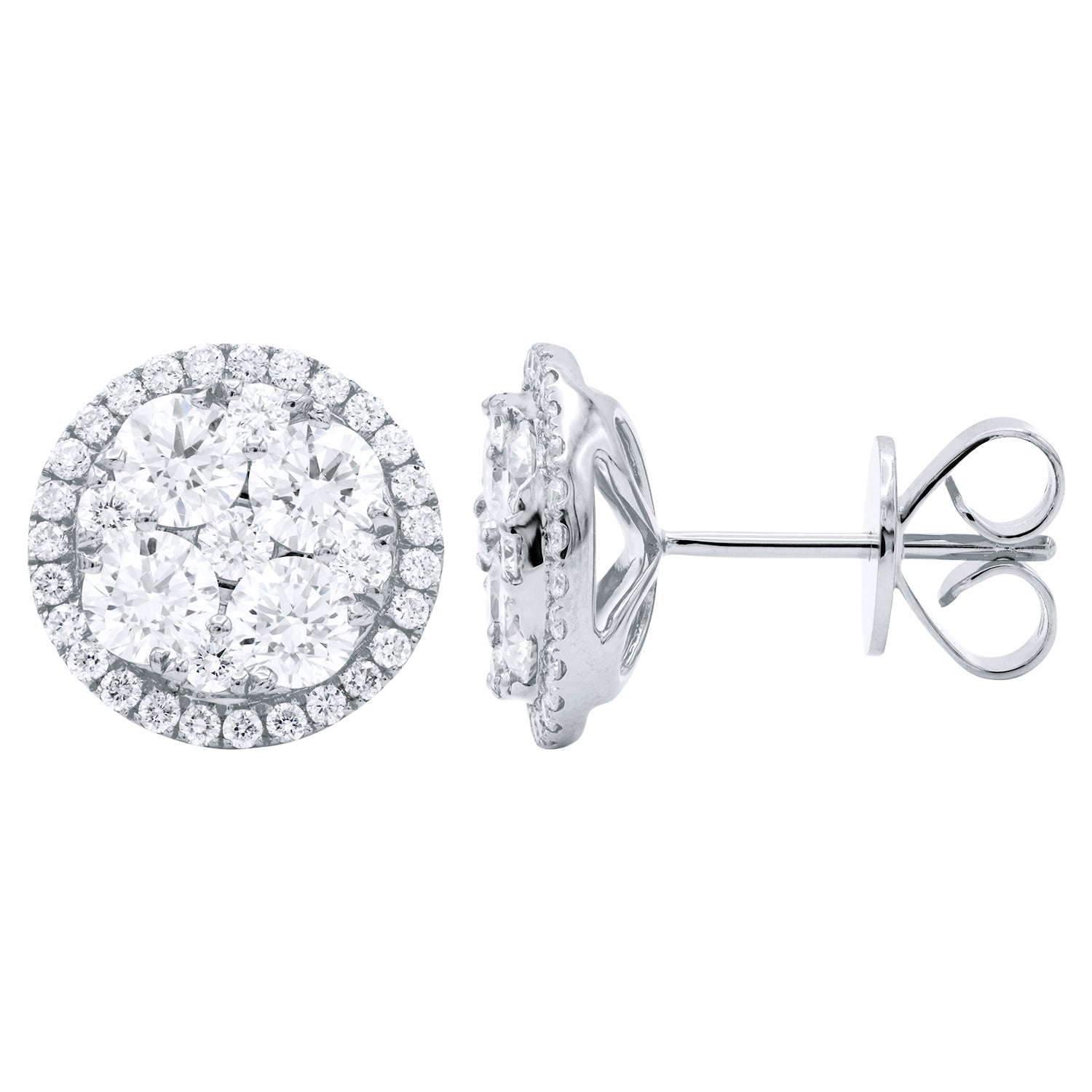 14K White Gold Orly Diamond Cluster Stud
The 14K White Gold Orly Diamond Cluster Stud represents an exquisite blend of sophistication and opulence, showcasing a mesmerizing design crafted to captivate the senses. Made from the finest 14-karat white gold, this striking piece features an intricate cluster of diamonds that exudes elegance and grace. At the core of this stud, eight round diamonds totaling an impressive 1.50 carats create a stunning focal point, radiating brilliance and allure. Surrounding this central cluster are 64 additional round diamonds, totaling 0.48 carats, meticulously set to enhance the overall sparkle and intricacy of the design. The harmonious marriage of gleaming white gold and shimmering diamonds creates a luxurious and timeless accessory that epitomizes sophistication.
Exemplifying unparalleled artistry, the 14K White Gold Orly Diamond Cluster Stud showcases meticulous craftsmanship and attention to detail. The cluster design, meticulously formed from luminous white gold, demonstrates the skill and precision required to craft such an intricate and captivating piece. The arrangement of diamonds within the cluster accentuates the brilliance and allure of the stud, offering an elegant accessory suitable for any occasion. Whether worn as a standalone statement piece or paired with other jewelry, these studs effortlessly exude refinement and elevate the wearer's style with their timeless charm.
Beyond its aesthetic appeal, the 14K White Gold Orly Diamond Cluster Stud symbolizes an embodiment of sophistication and eternal beauty. The icy brilliance of the white gold seamlessly complements the dazzling diamonds, evoking a sense of understated luxury and glamour. Versatile and captivating, this piece serves as a testament to refined taste and celebrates enduring allure. With its exceptional design and superior craftsmanship, these studs serve not only as an accessory of elegance but also as a cherished heirloom, destined to be passed down through generations as a symbol of enduring grace and refinement.
Style Number:
GLAE153540
Metal Purity:
14 Karat
Metal Color:
White Gold
Jewelry Finish:
Rhodium
Setting Type:
Prong
Earring Back:
Push Back
Diamond Count:
72
Diamond Shape:
Round
Diamond Color :
H-I
Diamond Weight:
0.98ct
Diamond Clarity:
SI1
Diamond Color:
H