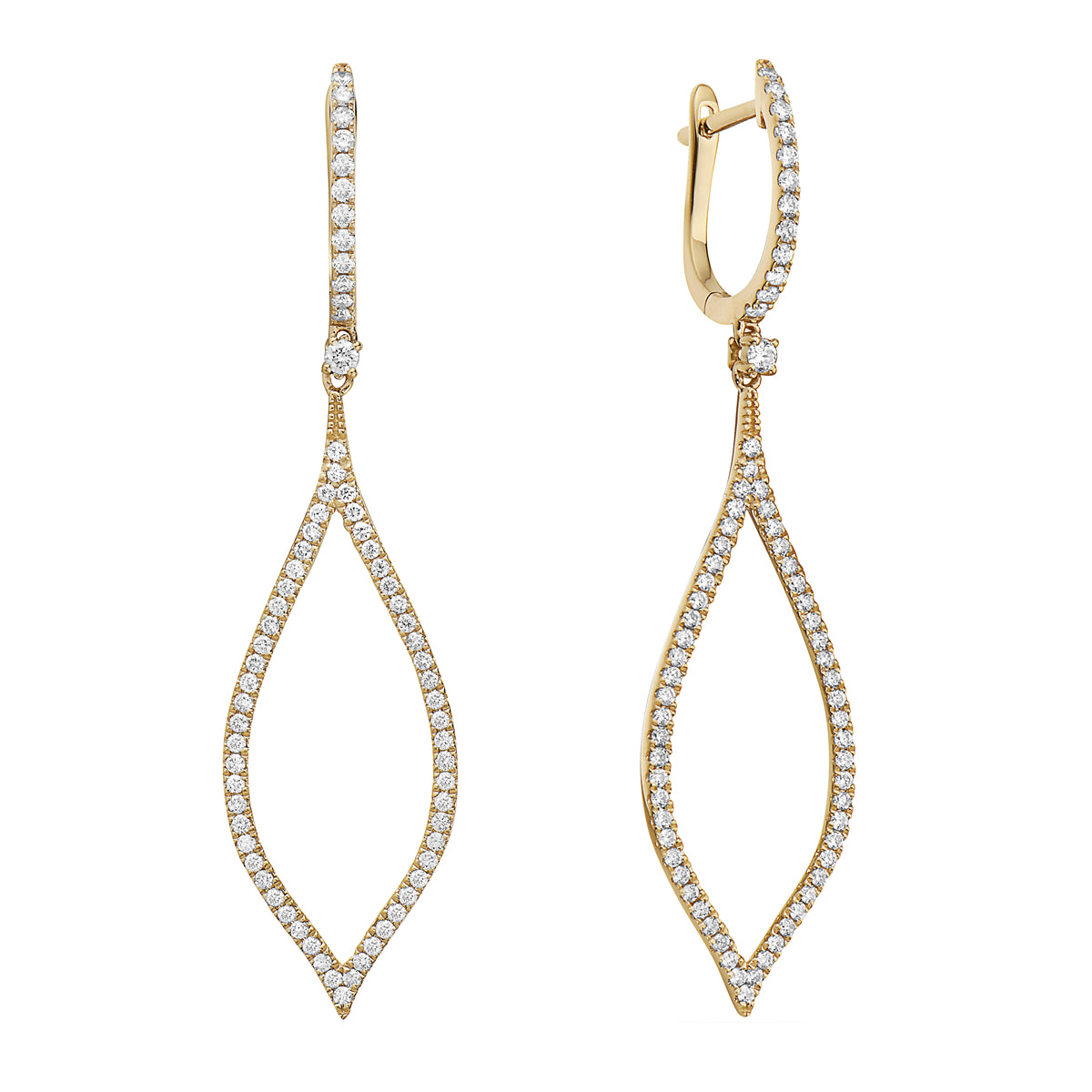 14K Yellow Gold Open Leaf Drop Earrings
These 14K Yellow Gold Open Leaf Drop Earrings are a captivating blend of sophistication and natural inspiration, crafted from radiant 14-karat yellow gold. Exhibiting a graceful leaf motif, these drop earrings are adorned with 140 round diamonds totaling 0.77 carats, emphasizing the intricate beauty and elegance of the design. Weighing 4.1 grams, these earrings offer a delightful accessory that effortlessly transitions from casual outings to formal affairs, exuding charm and refined style.
The leaf-inspired silhouette of these earrings is exquisitely adorned with a multitude of round diamonds, creating a mesmerizing shimmer that accentuates the graceful contours of the design. The arrangement of these diamonds showcases meticulous attention to detail, enhancing the overall allure and adding a touch of brilliance to the earrings. The gentle curves and meticulous craftsmanship of the yellow gold setting further elevate the beauty of the leaf motif, evoking a sense of natural elegance and sophistication.
Exuding artistry and timeless allure, the 14K Yellow Gold Open Leaf Drop Earrings beautifully capture the essence of nature's allure in a chic and refined form. These earrings blend a touch of elegance with an ode to the natural world, making them a versatile accessory suitable for various occasions. The intricate leaf design, coupled with the dazzling diamond accents, makes these earrings a captivating piece, perfect for those seeking an understated yet enchanting addition to their jewelry collection that celebrates nature's delicate beauty.
Style Number:
GLAE154332Y
Metal Purity:
14 Karat
Metal Color:
Yellow Gold
Setting Type:
Prong
Jewelry Size:
1" x 1/2"
Earring Back:
Hinge
Diamond Weight:
0.77ct
Diamond Clarity:
Diamond Color:
H