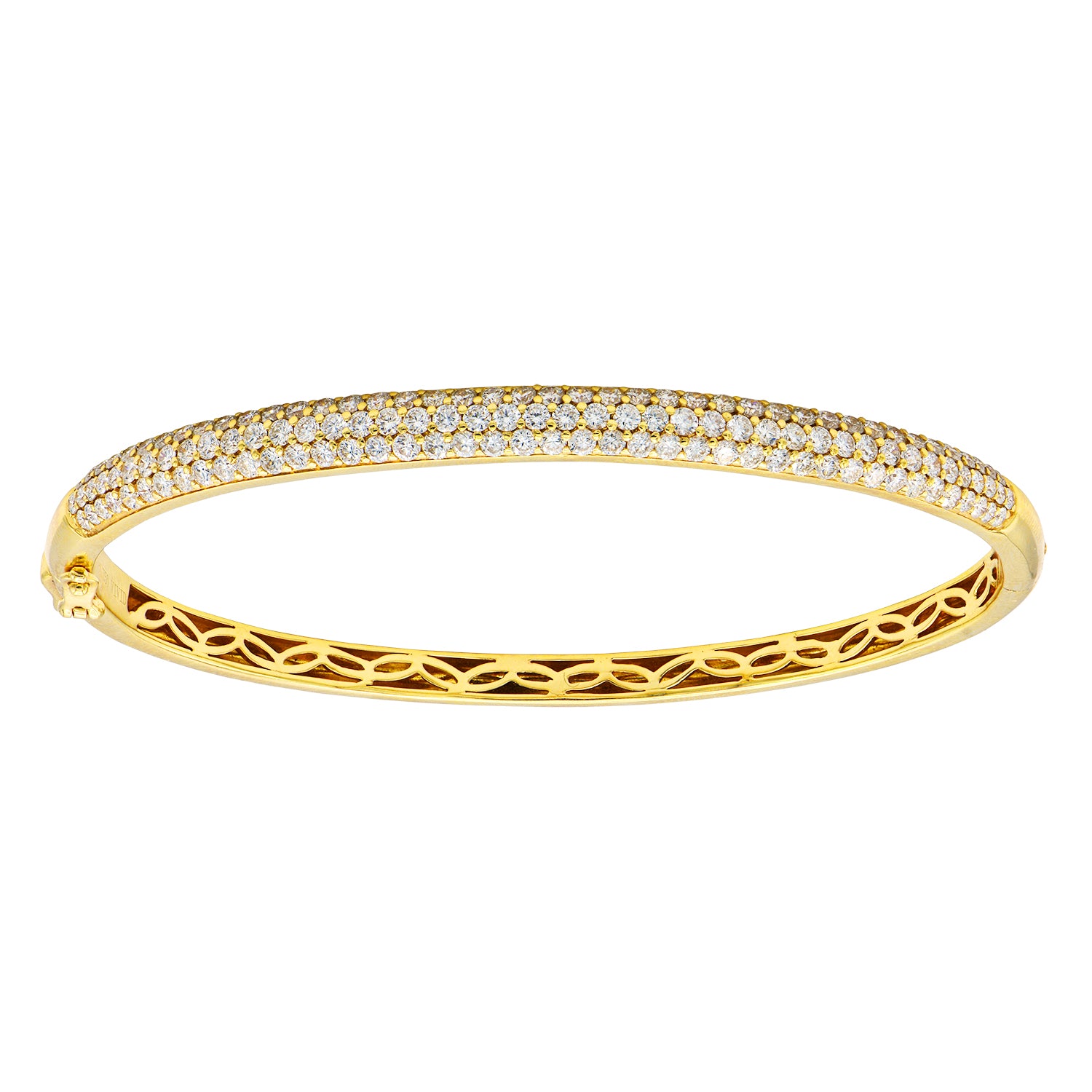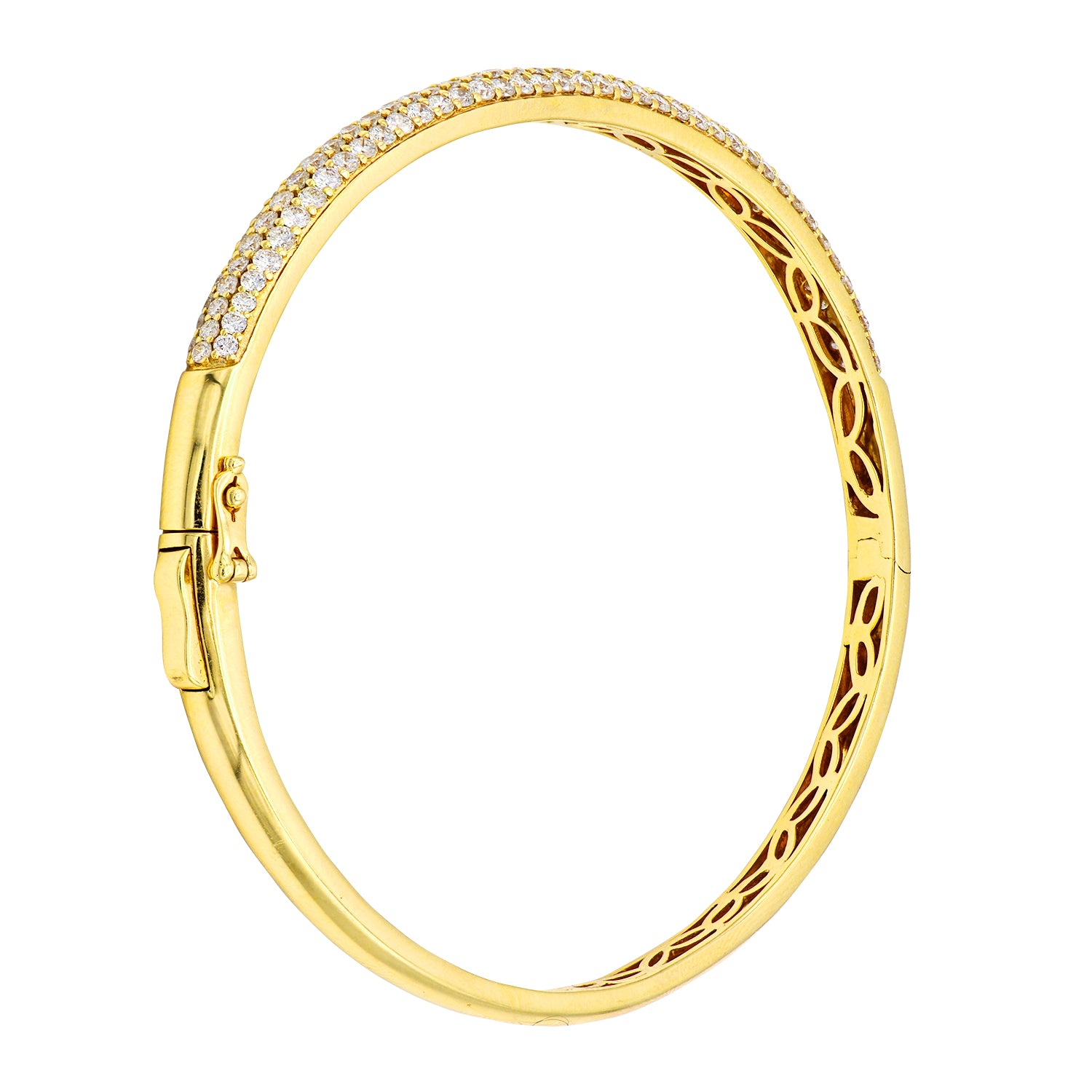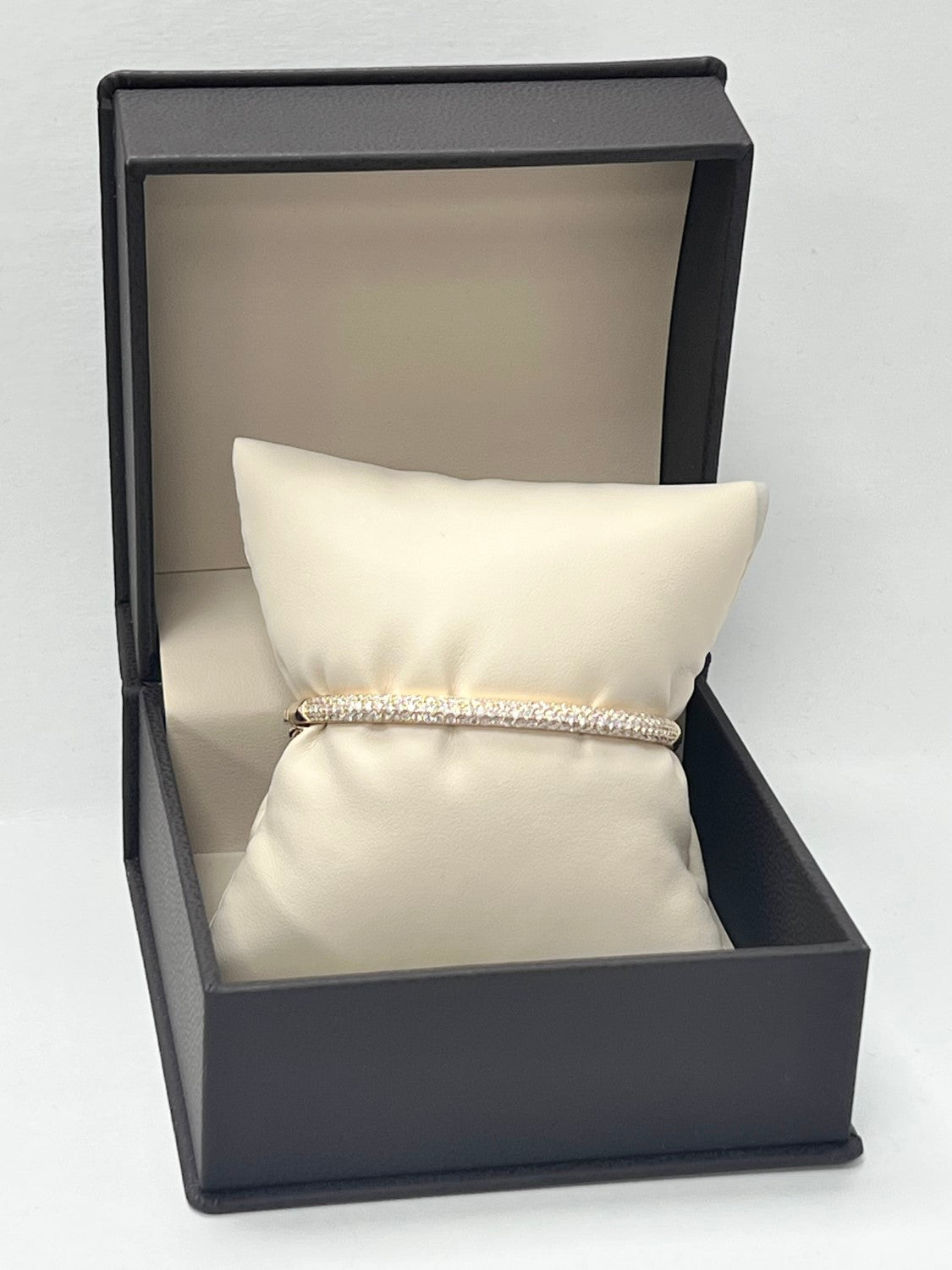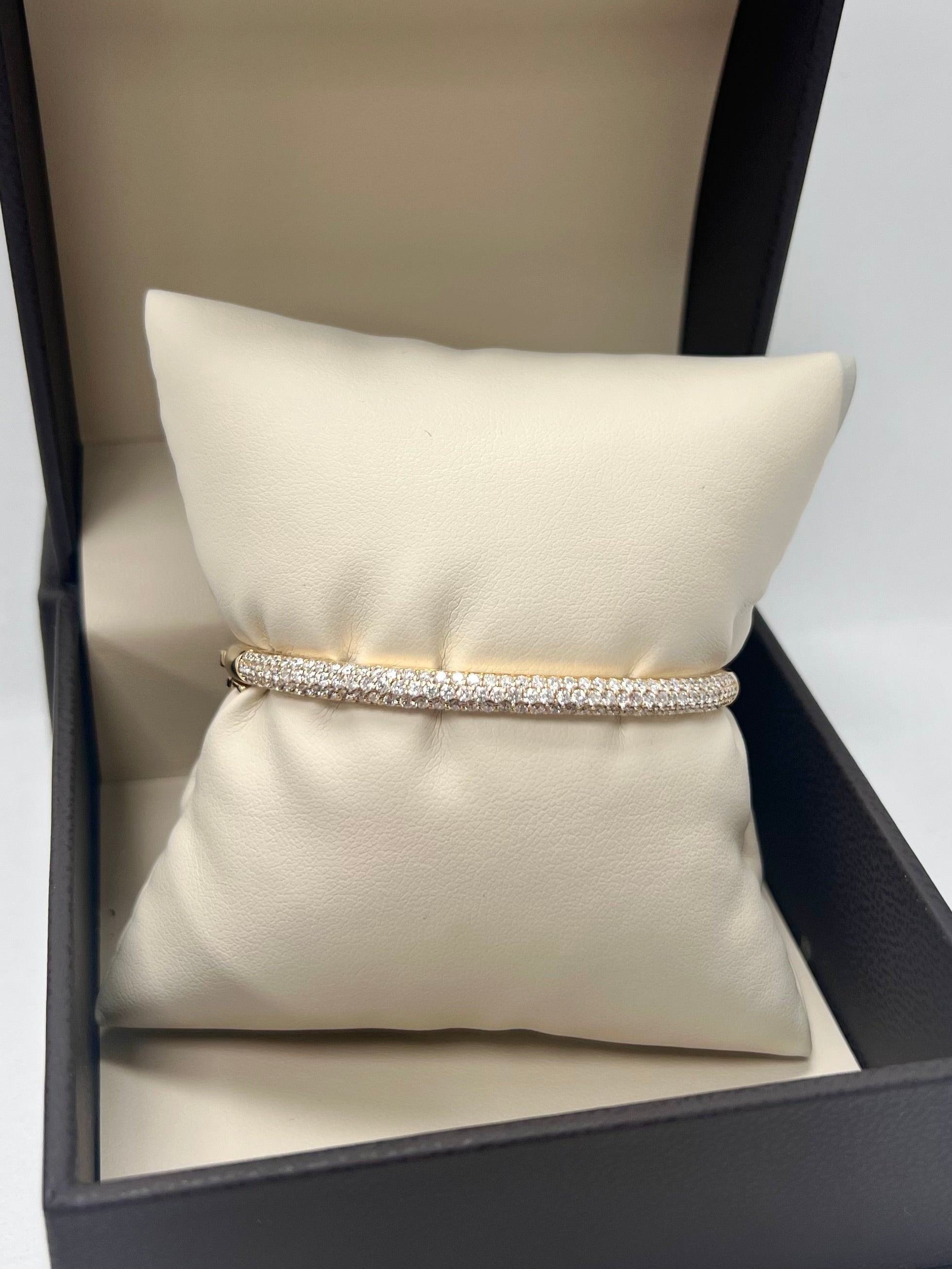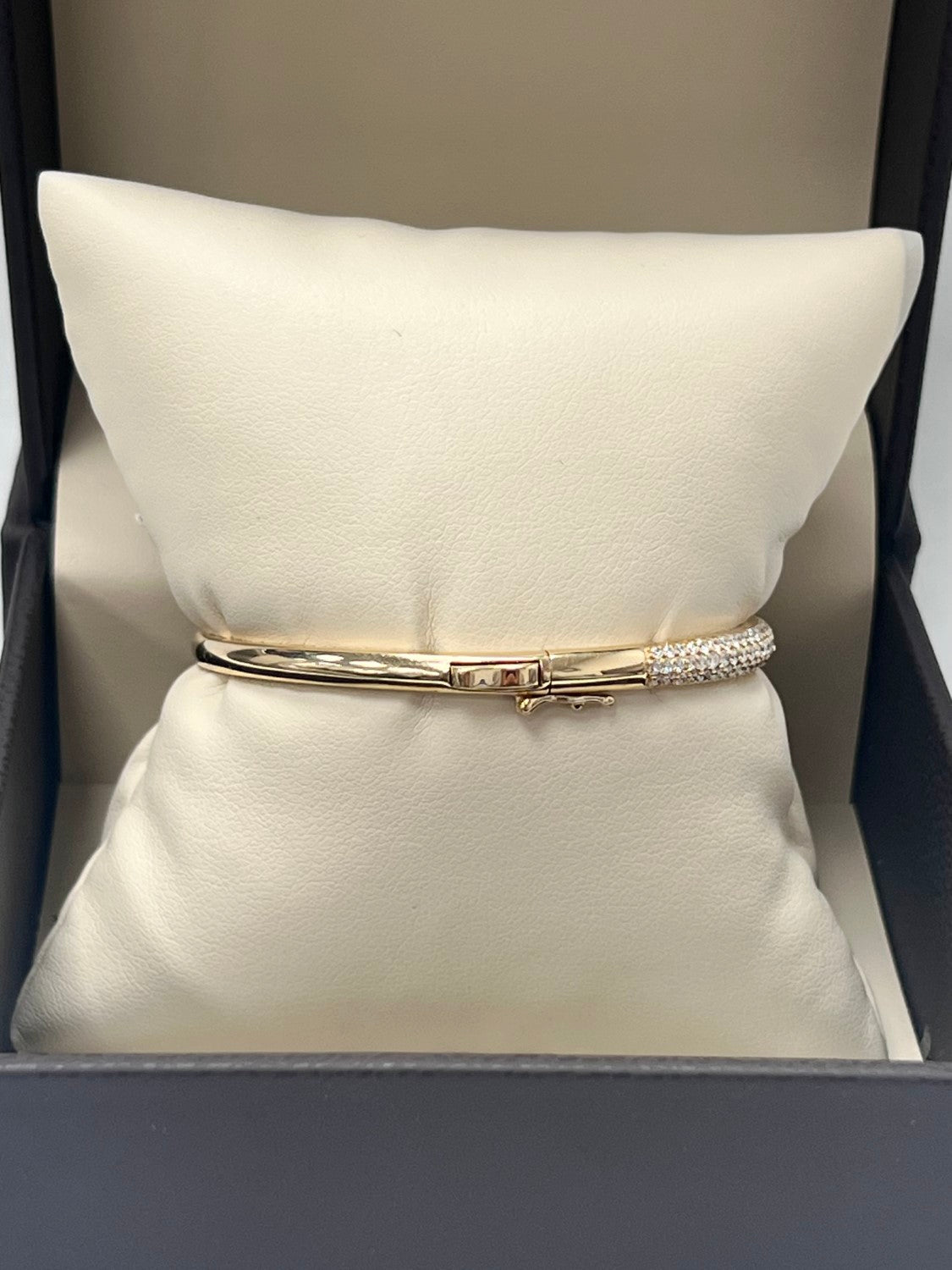 14K Yellow Gold Three Row Diamond Bangle
This 14K yellow gold bangle adorned with 127 round diamonds totaling 2.08 carats epitomizes a blend of timeless elegance and luxurious charm. Fashioned from radiant yellow gold, this bangle exudes a classic allure that harmonizes seamlessly with the brilliance of the carefully set diamonds. The warm, lustrous tones of the 14K yellow gold serve as a captivating backdrop, enhancing the sparkle and beauty of each diamond embedded within the piece.
Weighing 10.5 grams, this bangle showcases meticulous craftsmanship and attention to detail. The intricate arrangement of 127 round diamonds totaling 2.08 carats within the 14K yellow gold setting speaks volumes about the dedication to creating a masterpiece of exceptional quality. Each diamond, meticulously chosen for its cut and clarity, contributes to the bangle's dazzling radiance, ensuring a captivating and luxurious adornment for the wrist.
This jewelry item transcends trends, offering a timeless appeal suitable for any occasion. The marriage of yellow gold and diamonds in this bangle creates an enchanting visual impact that exudes sophistication and refinement. Whether worn as a standalone statement piece or paired with other accessories, this bangle serves as a testament to exquisite taste and enduring beauty, making it a cherished addition to any jewelry collection for those who appreciate the allure of classic elegance.
Style Number:
GLAB153487-YG
Metal Purity:
14 Karat
Metal Color:
Yellow Gold
Chain Type :
Cable
Jewelry Finish:
Rhodium
Setting Type:
Clip
Diamond Count:
127
Diamond Shape:
Round
Diamond Color :
G
Diamond Clarity:
SI1
Diamond Weight:
2.08